Oregon





album in pagina:

- Our First Album
- Distant Hills
- Violin
- Roots In The Sky
- Moon And Mind
- In Concert
- Music Of Another Present Era
- Winter Light
- Friends
- In Performance
- Together (with Elvin Jones)
- Crossing
- Oregon
- Troika
- Always, Never, And Forever
- Northwest Passage
- Out Of The Woods





L'8 novembre 1984 Collin Walcott è morto in un incidente automobilistico presso Magdeburg, in Germania, assieme al road manager Jo Harting: aveva terminato da pochi giorni la registrazione del nuovo album con i compagni, intitolando significativamente Crossing (incrocio). Il gruppo aveva ripreso da un paio di anni l'attività a pieno ritmo, incoraggiato dall'etichetta tedesca ECM, con cui ognuno dei compagni aveva già collaborato. Collin Walcott aveva 39 anni, studioso di musica etnica e della tradizione percussiva orientale, si era specializzato in sitar seguendo i consigli di Ravi Shankar ed è stato discepolo di Alla Rahkka per le tablas, diventandone uno dei massimi esperti in campo occidentale.

L'esordio vero e proprio del qualtetto con il nome Oregon risale al 1970, con Music Of Another Present Era, giudicato unanimamente il manifesto della nuova acoustic music; ma i quattro si erano già fatti notare al fianco del sassofonista Paul Winter in una affascinante miscela di jazz e musica etnica. Dopo il primo disco ne seguiranno altri sette su etichetta Vanguard, fra cui non possiamo scordare almeno Distant Hills e Winter Light: il gruppo raggiunge un equilibrio inimitabile fra musica da camera, jazz, free-form improvisation, tradizioni folk da tutto il globo.

Nel frattempo Ralph Towner intrapprende l'attività solista per la ECM (citerei su tutti Solstice con Jan Garbarek) e Collin Walcott realizza per proprio conto due dischi: Cloud Dance e Grazing Dreams, oltre a formare con Don Cherry e Nanà Vasconcelos il trio Codona.

Il passaggio degli Oregon all'etichetta Elektra preannuncia aria di crisi, difatti dopo tre albums il quartetto si scioglie per due anni dando spazio a progetti solisti. Particolarmente in luce è Ralph Towner, in una fortunata tounèe a quattro mani con John Abercrombie e con l'ottimo disco Blue Sun, mentre Paul McCandless realizza la gemma imperdibile All The Morning Brings ed entra nel gruppo Gallery. Walcott concretizza anche dal vivo l'esperienza con il trio Codona e collabora con la vocalist Meredith Monk.

Nel 1983 i quattro si riuniscono, accettando gli insistenti inviti della ECM: l'album evidenzia la volontà di rinnovamento, con l'inserimento del synth polifonico in mano a Ralph Towner, e un approcio più scientifico all'emotività delle improvvisazioni. In alcuni tratti la mossa si rivela vincente, ma in altri passaggi la sperimentazione si fa troppo rarefatta, offuscando la limpidità e la poesia che eravamo soliti attenderci dalle loro composizioni. Le idee alla base dei brani sono comunque sfavillanti e vengono levigate nella lunga serie di concerti tenuti in Europa, cosicchè chi ha avuto la fortuna di vederli dal vivo ha potuto pregustare lo squisito affiatamento raggiunto nel nuovo album. Oregon: Crossing. Il capitolo finale della splendida vicenda Oregon è un autentico testamento spirituale, la summa del loro lavoro degli ultimi anni, un esempio di coesione irripetibile, forse perduta per sempre con la tragica scomparsa di Collin Walcott. Forse il gruppo continuerà come trio, senza neppure tentare di sostituire la straordinaria personalità di Walcott: per avere un ricordo immediato della sua sensibilità, basta ascoltare Travel By Day, condotta dal suo sitar in magico inter-play con chitarra e contrabasso. Tutto l'abum è comunque un catalogo di gemme, un ritorno al fulgido lirismo d'origine, dopo il lavoro indebolito di sperimentalismi sfuocati, di due anni fa. Qui le idee sono invece chiarissime e accarezzate con una grazia da vero capolavoro. Sentite la malinconica circense di Kronach Waltz la gioia prorompente nonchè raffinata di Pepè Linque, o la magia sospesa di Queen Of Sydney, quasi rubata da un torrente d'alta montagna. I quattro si concedono anche un'escursione nello swing con The Glide portata in trionfo dal sax soprano di Paul McCandless e dal pianoforte agilissimo di Ralph Towner. Un altro rammarico del disco precedente era l'abbandono della chitarra in favore del Prophet 5: in questo lavoro Towner recupera ampiamente lo strumento prediletto, pur mantenendo qualche delicata colorita di synth, Amarillys è un incantevole ritorno all'antico, con la dodici corde roteanete in ammaglianti arpeggi e Alpenbridge trova sulla classical guitar i migliori brividi malinconici. Arrangiamenti ed esecuzioni sono ovunque perfetti, spinti al bersaglio della potente comunicativa che allontana ogni freddezza formale. L'interscambio fra le quattro personalità aveva raggiunto livelli sublimi, grazie ad una telepatia quasi mistica nell'accostare le sonorità: Queen Of Sidney è il momento onirico di classe inimitabile, raggiunto con la massima concentrazione. Towner è come sempre eccellente, sia alla chitarra che al pianoforte; Mc Candless assume nuove cadenze dinamiche usando il sax soprano, ma quando soffia nell'oboe, i brividi sulla schiena sono inafferrabili; Glen Moore ha compiuto ulteriori progressi con il suo contrabasso che sembrava già perfetto. E cosa dire di Walcott senza cadere nella celebrazione? Percussionisti così sensibili non ne nascono più (forse Nanà Vasconcelos, ma non è altrettanto versatile) e nessun altro ha saputo avvicinare con tanta poesia il sitar alla melodia occidentale: la sua perdita certamente incolmabile getta un velo di commozione struggente su questo Crossing, un indiscutibile capolavoro destinato a rimanere per molto tempo nel nostro cuore.

Massimo Bracco da Buscadero n° 55 gennaio 1984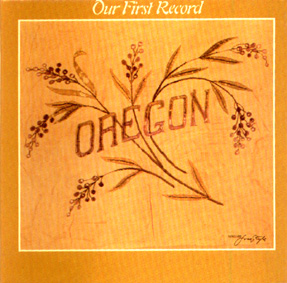 - Our First Record
(1970) Vanguard Uv 042 - cd

1. Canyon Song (R. Towner) 2.46 - 2. Full Circle (C. Walcott/R. Towner) 4.41 - 3. Japan/Charles St. Melancholy (Oregon) 3.33 - 4. Collin's Delite (C. Walcott) 3.42 - 5. Cry Of The Peacock/Coral (C. Walcott/R. Towner) 6.24 - 6. Mary's New Bloom (G. Moore) 2.15 - 7. Aheer (C. Walcott) 7.06 - 8. Recuerdos (F. Tarrega, arr. R. Towner) 3.38 - 9. L'Histoire Du Farm Suite (Oregon) 3.50 - 10. Jade Vision (S. LeFaro) 3.20 - 11. Molecular (Oregon) 1.31 - 12. Margueritte (C. Walcott) 3.08 - 13. Entrez Devotèe Compagne (Trad. Arr. R. Towner) '59

Musicians:
Paul McCandless, Glen Moore, Ralph Towner, Collin Walcott

Produced by Oregon
Engineering by Peter Pilafian and Kevin Boutote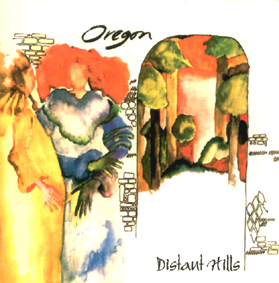 - Distant Hills
(1973) Vanguard SVAL 33036 - vinile

1. Aurora 7.42 - 2. Dark Spirit 5.50 - 3. My Chinita Suite 7.00 - 4. Distant Hills 6.31 - 5. Canyon Song 4.56 - 6. Song For A Friend 5.19 - 7. Confession 6.24

Musicians:
Paul McCandless, Glen Moore, Ralph Towner, Collin Walcott

Produced by Oregon
Recorded at Vanguard's 23rd Street Studio, New York City on July 2, 3, 5, 1973
Engineering by Jeff Zaraya
Cover painting by Monica Monsley

Quella raffinata ricerca dietro il suono, di timbri e di cadenza, di armonie e di contrasti, si sublima sull'album Distant Hills, Towner ne è il padrone assoluto.
Oltre a levigare ulteriormente il sound, Towner allunga i tempi delle composizioni, e di conseguenza ne complica la struttura. Tanto intimista quanto anonima, tanto fresca quanto fragile. tanto elegante quanto ambigua, tanto tenue quanto repentina, la musica degli Oregon indulge nelle proprie contraddizioni, senza mai tentare una vera sintesi dei vari costituenti fondamentali.
E proprio in queste sue contraddizioni trova il proprio valore. L'ouverture romanticissima di Aurora (destinata a rimanere uno dei loro temi più celebri), il raga flamenco di Dark Spirit, la serenata classicheggiante di Distant Hills, la vibrante sarabanda di Canyon Song, il tenero duetto di contrabasso e chitarra di Song For A Friend sono tipici dell'umore irreale. crepuscolare, esistenziale che pervade il jazz esotico da camera del gruppo.
Piero Scaruffi da New Age n° 8/10 dicembre 1991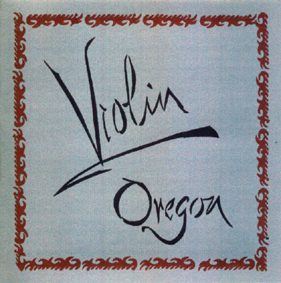 - Violin
(1978) Vanguard SVAL 33048 - vinile

1. Violin 15.27 (Group Improvisation) - 2. Serenade 2.07 (R. Towner) - 3. Raven's Wood 9.33 (R. Towner) - 4. Flagolet 5.11 (G. Moore) - 5. Friend Of The Family 4.38 (R. Towner)

Musicians:
Paul McCandless, Glen Moore, Ralph Towner, Collin Walcott, Zbigniew Seifer

Produced by Oregon
Recorded at Vanguard's 23rd Street Studio, New York City
Engineering by Jeff Zaraya and Charlie Repka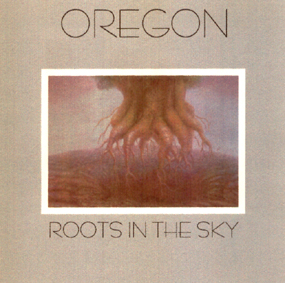 - Roots In The Sky
(1979) Elektra 6E-224-B - vinile

1. June Bug 3.55 - 2. Vessel 7.42 - 3. Sierra Leone 4.00 - 4. Ogden Road 6.25 - 5. House Of Wax 4.31 - 6. Hungry Heart 5.30 - 7. Orrington's Escape '49 - 8. Roots In The Sky 4.20 - 9. Longing So Long 6.49

Musicians:
Paul McCandless, Glen Moore, Ralph Towner, Collin Walcott

Produced by Oregon
Recorded at Longview Farms, North Brookfield, Massachusetts on December 1978 and Columbia Recording Studios, New York on April 1979.
Engineering by David Greene
Cover painting by Hanna Kay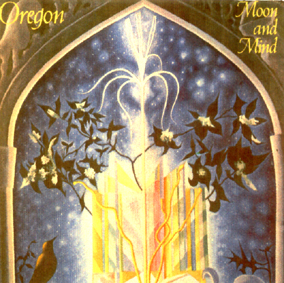 - Moon And Mind
(1979) Vanguard VSD 79419 - vinile

1. Person-To-Person 3.11 - 2. I Remember Me 4.00 - 3. Rejoicing 4.17 - 4. The Elk 6.02 - 5. Gloria's Step 3.16 - 6. Moon And Mind 8.20 - 7. Dust Devil 3.03 - 8. Elevator 3.53 - 9. Dunvegan 4.23

Musicians:
Paul McCandless, Glen Moore, Ralph Towner, Collin Walcott

Produced by Oregon
Recorded at Vanguard's 23rd Street Studio, New York City
Engineering by Jeff Zaraya and Mark Berry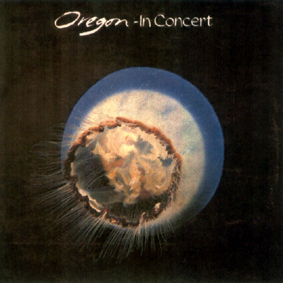 - In Concert
(1975) Vanguard SVAL 33042 - vinile

1. Introduction '42 (George Schultz) - 2. Become, Seem Appear 6.36 (Oregon) - 3. Summer Solstice 9.46 (R. Towner) - 4. Undertown 3.43 (P. McCandless) - 5. The Silence Of A Candle 9.53 (R. Towner) - 6. Tryton's Horn 5.01 (Oregon) - 7. Yet To Be 5.55 (R. Towner)

Musicians:
Paul McCandless, Glen Moore, Ralph Towner, Collin Walcott

Produced by Oregon
Recorded live before an invited audience at Vanguard's Studio in New York City on April 8 and 9, 1975
Engineering by Jeff Zaraya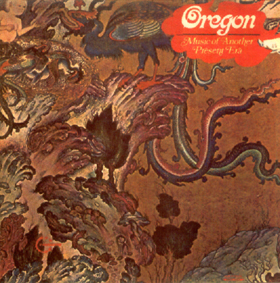 - Music Of Another Present Era
(1973) Vanguard 79329 - vinile

1. North Star 5.54 - 2. The Rough Places Plain 3.14 - 3. Sail 4.32 - 4. At The Hawk's Well 3.09 - 5. Children Of God 1.09 - 6. Opening 5.32 - 7. Naiads 2.02 - 8. Shard '29 Spring Is Really Coming 2.55 - 9. Bell Spirit '42 - 10. Baku The Dream Eater 4.22 - 11. The Silence Of A Candle 1.45 - 12. Land Of Heart's Desire 3.21 - 13. The Swan 3.51 - 14. Touchstone 5.55

Musicians:
Paul McCandless, Glen Moore, Ralph Towner, Collin Walcott

Produced by Oregon
Recorded at Vanguard's Studio in New York City
Engineering by Dave Butcher and Jeff Zaraya

La musica annunciata dal primo album, che si intitola programmaticamente Music Of Another Present Era, è delicatamente impressionista e visionaria: l'attraversano il respiro della natura, lo spirito della vita, l'incedere dell'universo. Con la loro pioggerella di accordi vellutati e cristallini gli strumenti pennellano teneri acquarelli sospesi nel nulla. E' un disco di bisbigli, di fitti dialoghi sottovoce, di flussi di emozioni semplici. Duetti surreali di basso e mridigam (Spring Is Really Coming) o di chitarra e pianoforte (Land Of Heart's Desire) rimandano a una sorta di bozzettismo metafisico. Dal fosco, abulico, confuso brusio di North Star alla festosa fanfara brasiliana di Sail, dal raga ipnotico di Opening al sinistro cicaleggio dissonante di Baku The Dream Eater, dall'aria struggente di The Swan al jazz-rock manieristico di Touchstone, il disco traccia un complesso caleidoscopio di luoghi sonori, mettendo a punto un linguaggio umilmente acustico che a una rigogliosa vena poetica associa strutture narrative articolate e sofisticate.
Piero Scaruffi da New Age n° 8/10 dicembre 1991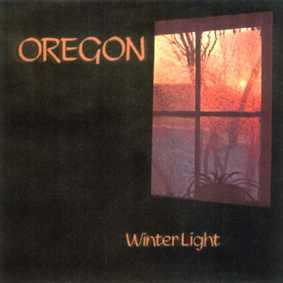 - Winter Light
(1974) Vanguard SVAL 33037 - vinile

1. Tide Pool 8.32 (R. Towner) - 2. Witchi-Tai-To 3.26 (Jim Pepper) - 3. Ghost Beads 6.38 (R. Towner) - 4. Deer Path 2.46 (G. Moore) - 5. Fond Librè 5.03 (P. McCandless) - 6. Street Dance 2.10 (Oregon) - 7. Rainmaker 4.27 (R. Towner) - 8. Poesia 5.25. (Oregon) - 9. Margueritte 4.05 (C. Walcott)

Musicians:
Paul McCandless, Glen Moore, Ralph Towner, Collin Walcott

Produced by Oregon
Recorded at Vanguard's Studio in New York City on July 16, 18, 21 and August 6, 7 1974
Engineering by Jeff Zaraya
Cover photo by Collin Walcott

Calligrafico fino al paradosso, Winter Light mescola e confonde ancor più le sorgenti d'ispirazione del loro sound, accentuando al tempo stesso il senso di mistero. I tempi si dilatano ulteriormente, le note sono ancor più centellinate, la strumentazione sempre più studiata. Il disco è sopratutto più cantabile ( la melodia avvolgente di oboe in Fond Librè, l'incalzante ritornello pianistico di Rainmaker) e più ritmato (Poesia, Marguerite).
I brani cardine, Tide Pool e Ghost Beads, sono sempre di Towner, e sono anche quelli in cui risultano più evidenti i debiti verso rinascimento e barocco (sopratutto nel modo in cui la chitarra di Towner gestisce il contrappunto e il ritmo).
Tutto si svolge all'insegna della perfezione formale: ogni minimo gesto musicale è calcolato in funzione di una suggestione e un effettismo globali. Con questi dischi il sound degli Oregon si afferma definitivamente come un classico della sua epoca e stabilisce un precedente con cui si misurano decine di altri ensemble musicali.
Piero Scaruffi da New Age n° 9/10 dicembre 1991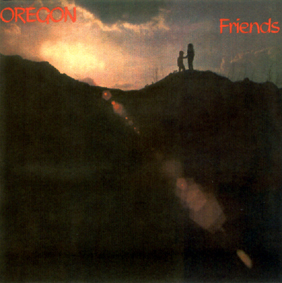 - Friends
(1977) Vanguard SVAL 33047 - vinile

1. Interstate 8.35 (R. Towner) - 2. Gospel Song 2.34 (P. McCandless) - 3. Grazing Dreams 3.34 (C. Walcott) - 4. Slumber Song 5.54 (P. McCandless) - 5. Time Remembered 4.43 (B. Evans) - 6. First Thing In The Morning 3.17 (B. Wallace/C. Walcott) - 7. Love Over Time 3.45 (G. Moore) - 8. Timeless 8.19 (J. Abercrombie)

Musicians:
Paul McCandless, Glen Moore, Ralph Towner, Collin Walcott, Larry Karush, David Earl Johnson, Bennie Lee Wallace

Produced by Oregon
Recorded at Vanguard's Studio in New York City
Engineering by Jeff Zaraya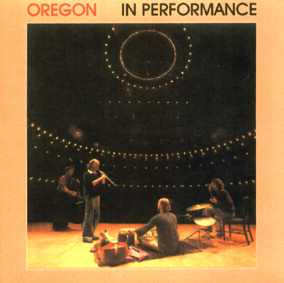 - In Performance
(1980) Elektra 9E 304 - vinile

1. Buzzbox - 2. Along The Way - 3. Wanderlust - 4. Deer Path - 5. Waterwheel - 6. Drum Solo - 7. Arion - 8. Free Piece - 9. Icarus

Musicians:
Paul McCandless, Glen Moore, Ralph Towner, Collin Walcott

Produced by Oregon
Recorded live at Carnegie Hall, New York City, November 24, 1979, at Saint Foy University, Quebec City, Canada, November 29, 1979 and at Outremont Theatre, Montreal, Canada, November 30, 1979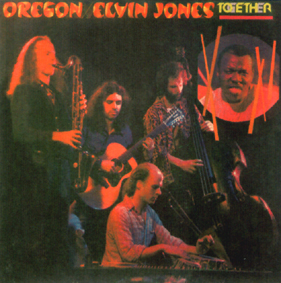 - Together
with Elvin Jones
(1976) Vanguard SVAL 33044 - vinile

1. Le Vin 11.35 (R. Towner) - 2. Lucifer's Fall 5.35 (R. Towner) - 3. Charango 4.01 (Oregon) - 4. Three Step Dance 6.40 (G. Moore) - 5. Drivern Omens 3.36 (E. Jones) - 6. Teeth 4.19 (E. Jones/C. Walcott) - 7. Brujo 8.00 (R. Towner)

Musicians:
Paul McCandless, Glen Moore, Ralph Towner, Collin Walcott, Elvin Jones

Produced by Oregon and Ed Bland
Recorded in January 1976 at Vanguard's New York Studios
Engineering by Jeff Zaraya

Il lavoro è composto da sette tracce, tutte composizioni originali firmate dagli Oregon, tra cui Le Vin della durata di undici minuti, che apre il disco e che porta la firma di Ralph Towner, buon inizio, molto jazz nel quale il gruppo parte deciso, e capiamo subito che la batteria avrà un ruolo fondamentale nelle composizioni di quest'album. Seguono Lucifer's Fall, col piano di Ralph Towner in bella evidenza e assolo di batteria, e Charango, composizione firmata dai quattro Oregon.
Il secondo lato si mantiene a livello del primo, anche se vale la pena di segnalare Driven Omens, duetto batteria e tablas, episodio molto etnico, e Teeth, l'episodio più free del disco.
Per i jazzofili che ancora non si fossero decisi ad ospitare in casa un disco degli Oregon, ci auspichiamo possa essere finalmente la volta buona, vista la presenza del grande Elvin Jones.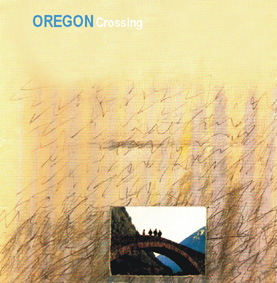 - Crossing
(1985) ECM 1291 -cd

1. Queen Of Sidney 8.10 - 2. Pepè Linque 4.17 - 3. Alpenbridge 6.26 - 4. Travel By Day 4.18 - 5. Kronach Waltz 3.00 - 6. The Glide 6.07 - 7. Amaryllis 8.49 - 8. Looking-Glass Man 4.20 - 9. Crossing 3.13

Musicians:
Paul McCandless, Glen Moore, Ralph Towner, Collin Walcott

Produced by Manfred Eicher
Recorded at Tonstudio Bauer, Ludwigsburg on October 1984
Engineering by Martin Wieland
Cover by Barbara Wojirsch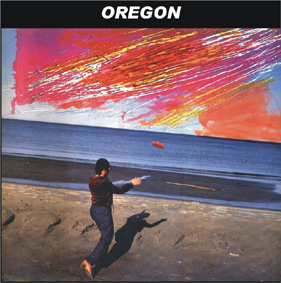 - Oregon
(1983) ECM 1258 - vinile

1. The Rapids (R. Towner) 8.25 - 2. Beacon (Oregon) 2.53 - 3. Taos (Oregon) 6.12 - 4. Beside A Brook (P. McCandless) 4.20 - 5. Arianna (G. Moore) 6.20 - 6. There Was No Moon That Night (Oregon) 7.20 - 7. Skyline (Oregon) 1.18 - 8. Impending Bloom (G. Moore) 7.52

Musicians:
Paul McCandless, Glen Moore, Ralph Towner, Collin Walcott

Produced by Manfred Eicher
Recorded at Tonstudio Bauer, Ludwigsburg on February 1983
Engineering by Martin Wieland
Cover photo by Gabor Attalai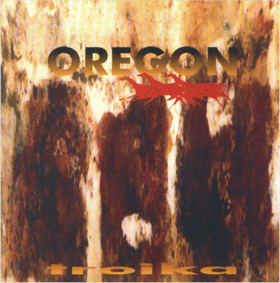 - Troika
(1994) Verabra vbr 2078 - cd

1. Charlotte's Tangle 5.40 - 2. Gekko 6.06 - 3. Prelude (improv 2) 2.21 - 4. Mariella 6.51 - 5. Spanish Stairs (squanto) 2.54 - 6. Arctic Turn/Land Rover (free piece) 2.53 - 7. Mexico For Sure 3.54 - 8. Pale Sun 6.39 - 9. I Said Ok 4.20 - 10. Tower 5.32 - 11. Minaret 3.03 - 12. Celeste 6.37

Musicians:
Paul McCandless, Glen Moore, Ralph Towner

Produced by Oregon
Recorded at Desitrek Studio, Portland, Or., OTR Studios, Belmont, Ca and Agnes Flanagan Chapel, Leweis and Clark College, Portland, Or.
Engineering by Doug Durbrow, Cookie Marenco and Scott Anderson
Cover painting by E. Roeskau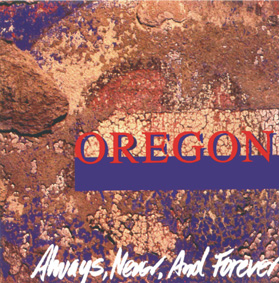 - Always, Never, And Forever
(1991) VeraBra vbr 2073 - cd

1. Beppo (R. Towner) 5.41 - 2. Balahto (T. Gurtu) 6.25 - 3. Renewal (R. Towner) 5.26 - 4. Oleander (P. McCandles) 2.57 - 5. Rapid Transit (R. Towner) 6.48 - 6. When The Fire Burns Low (R. Towner) 3.40 - 7. Aurora (R. Towner) 5.37 - 8. Playground In Nuclear Winter (Oregon) 4.54 - 9. Guitarra Picante (R. Towner) 4.38 - 10. Apology Nicaragua (G. Moore) 4.37 - 11. Big Fat Orange (C. Walcott) 2.59 - 12. Always, Never, And Forever (G. Moore) 7.32

Musicians:
Paul McCandless, Glen Moore, Ralph Towner, Trilok Gurtu

Produced by Oregon
Recorded at Studio N, Cologne, Germany
Engineering by Gunther Kasper
Cover photo by Birgit Mendel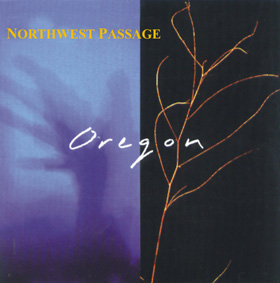 - Northwest Passage
(1997) Intuition int 3191 - cd

1. Take Heart 5.12 - 2. Don't Knock On My Door 2.11 - 3. Lost In The Hours 5.39 - 4. Over Your Shoulder 1.42 - 5. Claridade 6.34 - 6. Joyful Departure 6.32 - 7. Nightfall 8.38 - 8. Under A Dorian Sky 1.20 - 9. Fortune Cookie 4.49 - 10. Under The Mountain 1.52 - 11. L'Assassino Che Suona 3.35 - 12. Intro 1.22 - 13. Yet To Be 4.14 - 14. Northwest Passage 2.56

Musicians:
Paul McCandless, Glen Moore, Ralph Towner, Arto Tuncboyaciyan, Mark Walker

Produced by Steve Rodby
Recorded at Chicago Recording Co on September and October 1997
Engineering by Rich Breen
Cover painting by Reed Danziger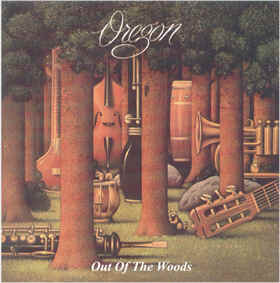 - Out Of The Woods
(1978) Discovery we 835 - cd

1. Yellow Bell 7.02 - 2. Fall 77 4.26 - 3. Reprise 1.02 - 4. Cane Fields 4.35 - 5. Dance To The Morning Star 5.36 - 6. Vision Of A Dancer 4.03 - 7. Story Telling 1.03 - 8. Waterwheel 6.26 - 9. Witchi-Tai-To 8.24

Musicians:
Paul McCandless, Glen Moore, 7.02 - 2. Fall 77 4.26 - 3. Reprise 1.02 - 4. Cane Fields 4.35 - 5. Dance To The Morning Star 5.36 - 6. Vision Of A Dancer 4.03 - 7. Story Telling 1.03 - 8. Waterwheel 6.26 - 9. Witchi-Tai-To 8.24

Musicians:
Paul McCandless, Glen Moore, Ralph Towner, Collin Walcott


Produced by Oregon
Recorded at Longview Farms, North Brookfield, Massachusetts on April 1978
Engineering by David Greene
Cover painting by David Wilcox